Components for Success!
Intervention Set
Intervention Sets are available in a single topic, two topic sets, or combination sets. Sets include Teacher Resource Manual(s) and Student Activity Books.
Teacher Resource Manuals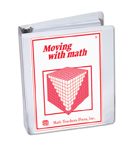 Assessment (Reproducible)
Pre-Tests and Post-Tests identify weaknesses and ensure accountability.
Student and Class Record Sheets allow teachers to differentiate instruction.
Daily Reviews provide differentiated instruction and aid long-term retention.
Record Sheet for Daily Reviews identifies reteaching pages for missed questions.
Lesson Plans
Pacing Calendars save prep time and increase time on task.
Lesson Plans are manipulative-based and lightly scripted to help teachers transition students from the concrete to the abstract stage of learning.
Journal Prompts encourage reflection on learning and writing.
Games with manipulatives make learning fun. Students are involved and motivated.
Student Activity Books

Each Student Activity Book covers essential concepts and skills for the grade level.
Activity Pages connect the manipulative-based lesson to pictures and practice on the page to transition students from the concrete to the abstract.
Problem-Solving skills are strengthened with strategies for solving problems.
Pre- and Post-Tests for each unit identify specific weaknesses and measure growth within topics.
Manipulatives
Students are involved in problem solving every day as they use manipulatives to develop understanding in real-life situations.
Exploration and Practice with manipulatives and overhead manipulatives engage students in a cooperative learning environment.
Additional Components
Test Assessment Packs
Test Assessment Packs include 20 Pre- and Post-Tests, and Student and Class Record Sheets to differentiate instruction.
Placement Tests identify appropriate Level for struggling student.
Parent Handbooks
Parent Handbooks include activities and inform families about their child's strengths and weaknesses. They are available in English and Spanish.