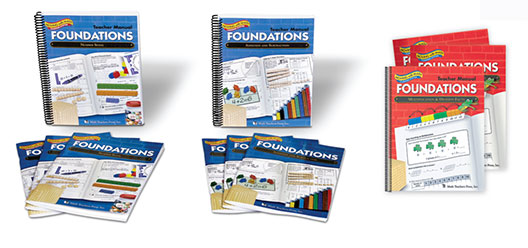 Foundations (1 – 4) CCSS See Products
Comprehensive or Targeted Intervention
Moving with Math® Foundations covers all objectives from grade 1 through grade 4 in seven volumes. Teachers may choose to cover all topics in a level for a comprehensive intervention, or focus on specific math topics for targeted intervention. Students use manipulatives in every lesson to develop conceptual understanding and improve achievement. The assessment and curriculum are linked to state standards
and provide data to differentiate instruction for all students.
Features
Built-In Assessment
Pre- and Post-Tests
Class Record Sheets
Student Progress Reports (IEP)
Daily Reviews and Skill Builders Reteaching
Varied Assessments
Journal Prompts
Sum It UPs!
Test Preps
Literacy Connections
Algebraic Reasoning
Error Analysis
Strategies for ELL
Scripted Lesson Plans
Pacing Calendar
Games
Family Letters, Activities
Spanish Edition
Professional Development
Flexible Usage
Comprehensive or Targeted Intervention
Response to Intervention
Dual Language/ELL
After School
Classroom Resource
Special Education
RTI Ready
Foundations is RTI Ready and includes all of the components recommended by What Works Clearinghouse.