Special Education and Title 1
The Moving with Math® Learning System was developed over 40 years ago to meet the needs of special education students. It integrates the essential RTI components and supports the Council for Exceptional Children's High-Leverage Practices in Special Education. The organized learning system makes it easy to assess, develop IEP's, teach effectively, monitor progress and get RESULTS!
Three Key Elements Ensure Special Education Success
Objective Based Curriculum Matched to Standards
All of the
Moving with Math
programs use an objective based system providing educators with a curriculum that is matched to state and national standards. This ensures each special education student receives accessible, on grade level instruction that is systematically designed toward their specific learning goals.
Research Based Hands-On Instruction
At the heart of all Moving with Math programs is research-based
Concrete-Representational-Abstract (CRA)
instruction. Students are engaged as they explore and discover the patterns that develop mathematical concepts crucial for success. Teachers guide them through the three stages of learning with activities and games that make learning dynamic and fun.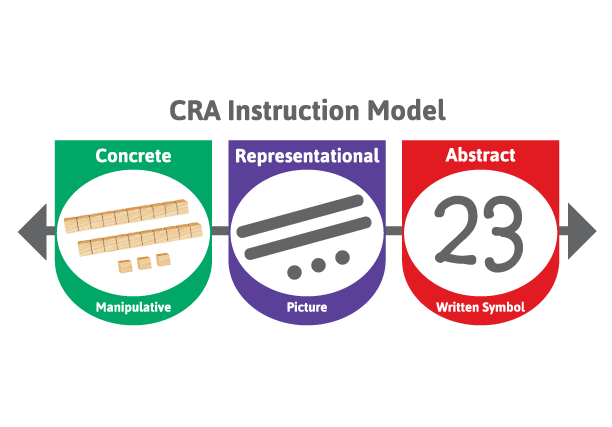 Scripted Lessons Promote Teaching Excellence
All programs provide detailed lesson plans with lightly scripted lessons that make it easy to teach with manipulatives and implement with fidelity. Teachers learn strategies and build confidence as they guide students through the explicit, manipulative-based instruction every day. Follow-Up Activities such as journal prompts, reteaching pages, and games provide a variety of opportunities to build student mastery, success and motivation. These key elements raise achievement and ensure each special education students' success!
Special Education Results
Results from Arlington Independent School District in Texas show the percent of increase in mean scores was 50%. The average gain for each student was 63%.
Special Ed. Results - Arlington, TX