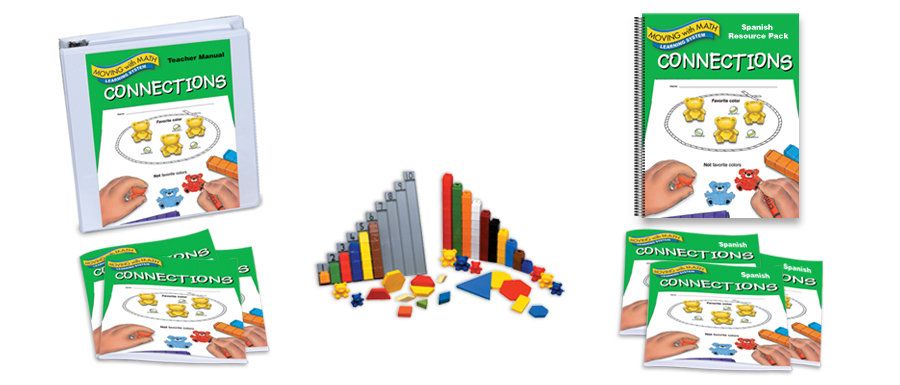 Connections Pre-K (English & Spanish)
See Products
Universal Pre-K or Dual Language with Cross Curricular Connections
Connections is a comprehensive standards-based curriculum which implements research-based practices and processes proven successful in classical early childhood studies. The program uses age appropriate screening assessments that quickly identify children's greatest needs and guide objective based instruction for individual students and the class throughout the year.
Concrete-Representational-Abstract (CRA) instruction introduces every lesson with hands on manipulatives to help children develop understanding of essential math concepts. CRA instruction is perfect for young minds as they physically explore and discover the essential math concepts and develop problem solving skills every day.
Children's stories are creatively woven into the curriculum to connect math to the real world and make it fun. Oral language skills are strengthened through small group activities while connections to Learning Centers for art, music, science, drama, ABCs and games provide greater understanding and enrichment. Parents and families are also engaged with family letters, activities and games.
Proven Research Based Learning Management System
Standards Based Curriculum
Universal Screening
CRA Instruction
Progress Monitoring
Connections to Learning Centers
Links to Family
Solution for Dual Language and Universal Pre-Kindergarten
Ensure Understanding with Hands On Lessons using concrete Manipulatives
Direct Instruction with Age Appropriate Assessment and Progress Monitoring
Develop Language and Literacy through Connections to Children's Stories
Engage families in student learning process with Family Connections
Lesson Plans provide daily Professional Development with Guidance and Support