St. Paul Public Schools have used the Moving with Math Extensions program for the past three summers. In 2016 they used it district wide with over 12,000 students and achieved terrific results.
"Students Showed Amazing Improvement"
Elizabeth Putnam – Assistant Director, Department of Alternative Education – St. Paul Schools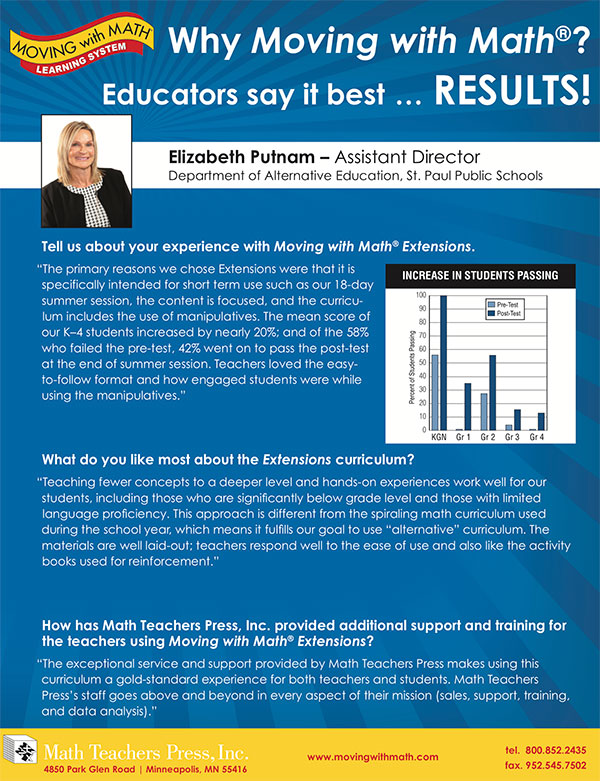 Complete Results
St. Paul Public Schools implemented the Moving with Math Foundations program in Fall 2013 as their RTI solution. Positive feedback from administrators and teachers, along with improved scores and increases in students' conceptual understanding of math, led them to implement the Moving with Math EXTENSIONS program as their Summer Math solution.
The easy-to-use Moving with Math Learning System, following the Concrete-Representational-Abstract (CRA) instructional model, is the ideal Summer School solution. Everything is organized in the customized pacing plans including the Assessment Tools for identifying students' needs and monitoring their progress. Professional Development happens every day through the Scripted Lesson Plans assuring that all teachers communicate effectively. Students with a variety of learning styles and languages find that using concrete manipulatives helps them develop better understanding making them confident, successful learners.
St. Paul administrators also commented that the professional customer service they receive is fantastic. Math Teachers Press provides support for the district and assists in everything from customized lesson plans, teacher training, organizing location material quantities and deliveries. Plans are underway for 2019 and St. Paul is anticipating another exciting summer of great results for their students!